Why ruin a good thing? Last time I listed the ten songs I would want on a deserted isle. Now it's time for the top ten albums.
I came of age in the rock era, so my list is skewered toward rock music. But I also snuck in some jazz, blues, country, and even Easy Listening. After all, one needs a well-rounded diet to supplement the coconuts and sand crab.
Drum roll, please…let me know your thoughts, yea or nay, and some of your own choices!
The Beatles, Beatles VI. Several of my favorite Beatles songs are on this collection of singles, B-sides, and album cuts on the North American Capitol label: "Yes it Is," "Eight Days a Week," "I Don't Want to Spoil the Party," and my fave Beatles cover song, Buddy Holly's "Words of Love." It also has sentimental charm, being the second rock album I ever bought, and every time I listen to it I'm transported back to my salad days.
The Beatles, Rubber Soul (Capitol). The first rock album I ever bought. Like above, it's a North America-only release with shuffled songs, but it's another personal time machine. I could be pressured into substituting the official EMI Rubber Soul that contains "Nowhere Man," but I give this Capitol version a slight edge due to the inclusion of "It's Only Love" and "I've Just Seen a Face."
Velvet Underground, Velvet Underground and Nico. I don't doubt that if Lou Reed had died in 1970, he'd be ranked with John Lennon and Bob Dylan. The best word to describe this record is "uncompromising." This is serious rock music for adults, filled with beauty, danger, and poetry. The "banana album" directly influenced dozens of later, more successful artists, yet it was so daring and intense in 1967 that it was totally ignored.
The Doors, The Doors. Like the record above, a thrilling debut album that threatened the peace and love vibes of the time, and where every song is a knockout. The Doors made a lot of great music after this, but never attained the same heights.
Bob Dylan, Highway 61 Revisited. After the 1960s he continued to make good music (especially Blood on the Tracks) but his creative peak were three albums in the mid-sixties: Bringing it All Back Home, Highway 61 Revisited, and Blonde on Blonde. This is my favorite of the three (not surprisingly the first Dylan I ever bought, back in college). Try as you might, there's no way to categorize this ragged hybrid of rock, blues, folk, and free-form verse that churns like a rickety steam engine and will be talked about as long as recorded music exists.
Beach Boys, Pet Sounds. Actually a Brian Wilson solo album with the group name slapped on it, he was trying to top the Beatles' Rubber Soul, and when Beatle Paul heard it he hatched the idea for Sgt. Pepper. Four of Wilson's greatest songs are here: "Wouldn't it Be Nice," "I Just Wasn't Made for These Times," "God Only Knows," and "Caroline No," plus two beautiful instrumentals. The only wrong move was inclusion of "Sloop John B," which is starkly out of place, but acceptable on a desert isle.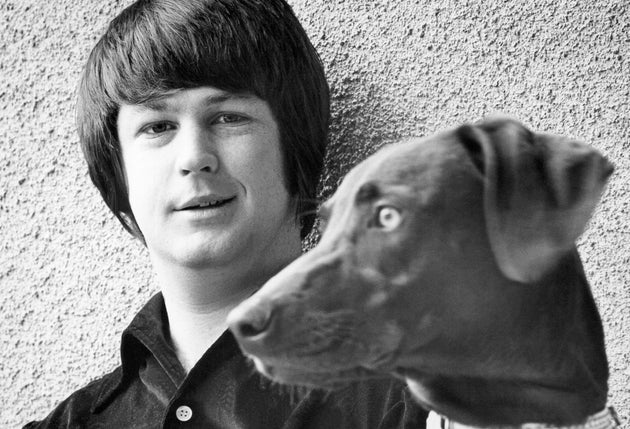 Burt Bacharach, The Look of Love. A three-CD boxed set. Until buying this in 2008, I mainly associated Bacharach with his popular Dionne Warwick songs and film work (and the dentist's office). His Warwick songs are legendary, but just a few keys on his grand piano. There's a thing called "The Bacharach Sound," and you can hear it on everything from "The Blob" (theme song to the 1958 cult monster movie starring a young Steve McQueen) on up to his 1998 collaboration with Elvis Costello. The best description of this Sound came from his late daughter, Nikki, who said experiencing it is like "going to heaven on a velvet slide."
Miles Davis, Kind of Blue. Lots of jazz experts call this the greatest jazz album ever. I'm more into rock, but I have a modest jazz collection, and I'm not going to disagree. Kind of Blue was a studio improv experiment for Miles that explored modality, setting the stage for John Coltrane's later work. Like Joni Mitchell's records, it's best appreciated alone, late at night, in a dark room, with no distractions.
Robert Johnson, The Complete Recordings. I also have a modest blues collection, and there are few musical experiences as wrenching as a listening session with the king of Delta Blues. He was an anomaly, dragged to only two recording sessions during the Great Depression when very few black musicians were active, then dying mysteriously. Not only was Johnson a guitar virtuoso who sang like he was wrestling with all sorts of crazy demons, but as a blues lyricist he's unparalleled. He's as close to an existential experience as you can get in blues.
Paul Groueff, Vest Pocket Soul. I'm cheating here. This guy actually hasn't released a record (yet). A few years ago I accidentally discovered his online Myspace page. He'd uploaded 11 demos there, and after listening I was so impressed I wrote to him, then managed to find an app to extract and download his tunes to my computer, then ripped them to CD. Groueff is hard to describe: a cross between Tim Buckley and Gordon Lightfoot might come close. He's not only an extremely talented guitarist, he's also a fine writer/arranger, and his voice often ascends to a plaintive falsetto, creating what I call a "high, lonesome, Montana" sound. I think his Myspace page is now defunct. And since he lives in an isolated cabin with no address on a mountain outside Bozeman, the only way to get his music is through Longitudes Records.
Honorable Mentions: Hank Williams, 40 Greatest Hits; Pink Floyd, Dark Side of the Moon; Small Faces, Ogden's Nut Gone Flake; Kevin Ayers, Joy of a Toy; Neil Young, After the Goldrush; Zombies, Odessey and Oracle; Jimi Hendrix Experience, Electric Ladyland; Love, Love; Townes Van Zandt, Live at the Old Quarter, Houston, Texas; Steely Dan, Katy Lied; Pentangle, Sweet Child; Bill Evans, The Village Vanguard Sessions; Lindisfarne, Nicely Out of Tune; Genesis, Foxtrot; and any of several Rolling Stones, Joni Mitchell, and additional Beatles, Dylan, and Velvets albums.
Off to the dentist's office on a velvet slide…